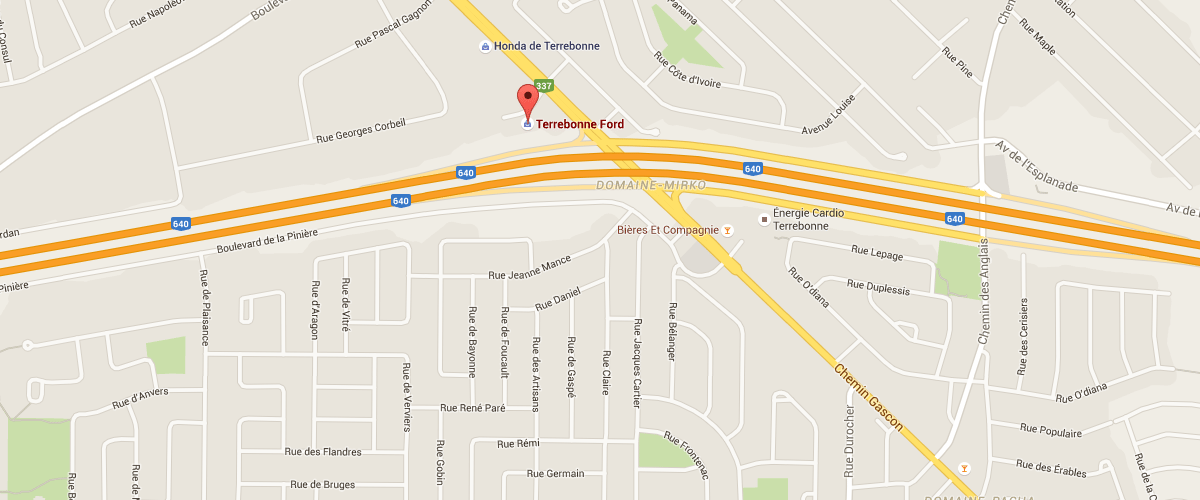 Contact Us
Call
866-981-0626
Hours
Monday: 9:00 AM to 9:00 PM
Tuesday: 9:00 AM to 9:00 PM
Wednesday: 9:00 AM to 9:00 PM
Thursday: 9:00 AM to 9:00 PM
Friday: 9:00 AM to 8:00 PM
Saturday: 10:00 AM to 6:00 PM
Sunday: Closed
Call
866-989-2974
Hours

Monday: 7:00 AM to 6:00 PM
Tuesday: 7:00 AM to 8:00 PM
Wednesday: 7:00 AM to 8:00 PM
Thursday: 7:00 AM to 6:00 PM
Friday: 7:00 AM to 4:00 PM
Saturday: Closed
Sunday: Closed
Call
450-968-9000
Hours

Monday: 7:30 AM to 6:00 PM
Tuesday: 7:30 AM to 8:00 PM
Wednesday: 7:30 AM to 8:00 PM
Thursday: 7:30 AM to 6:00 PM
Friday: 7:30 AM to 4:00 PM
Saturday: Closed
Sunday: Closed
About Terrebonne Ford
Founded in 1991 by Luc Soucy, your Ford dealer in Terrebonne is proud to have been in business for more than 27 years on Montréal's north shore. Young and dynamic, the president of Terrebonne Ford surrounded himself with a team in his image. Year after year, we lean on a superior service and the guarantee of the best price to offer our clients the best experience.
We are proud to present the complete lineup of new Ford vehicles, a superb selection of pre-owned vehicles, a dynamic after-sale service and a complete parts department.
Since 2008, Terrebonne Ford is the only Ford dealer in the region. Located on the corner of highway 640 and the Chemin Gascon, our dealership has a prime location allowing our clients easy access.
At Terrebonne Ford, we are a family. The team spirit and camaraderie that exists between our employees no doubt contributes to our success. Respect and dedication towards our clientele are deeply rooted values, each employee being their embassador. It's simple: We serve you the same way we would like to be served! This way, with an experienced and passionnate direction team and professionnal employees, you will be entirely satisfied.
Since January 2013, you can enjoy our brand-new ultra-modern installations. We will be happy to welcome you to our service department by the interior entrance where you will be sheltered from the weather, to offer you a bite to eat in our bistro, as well as show you around our exceptional showroom.
Our mission, dear client, is to make sure you enjoy every moment of your experience with Terrebonne Ford. We will strive to make your visit as pleasurable and warm as possible in a pressure-free and worry-free environment.
Travel the road behind the wheel of the Ford vehicle of your dreams with Terrebonne Ford!
It will be a pleasure to serve you for years to come!
Meet Our Staff
Stop by Terrebonne Ford for all your Ford service needs.
Questions? Any of our knowledgeable service and sales people can help.
Call 866-981-0626.
SHARE YOUR EXPERIENCE

*Required Fields